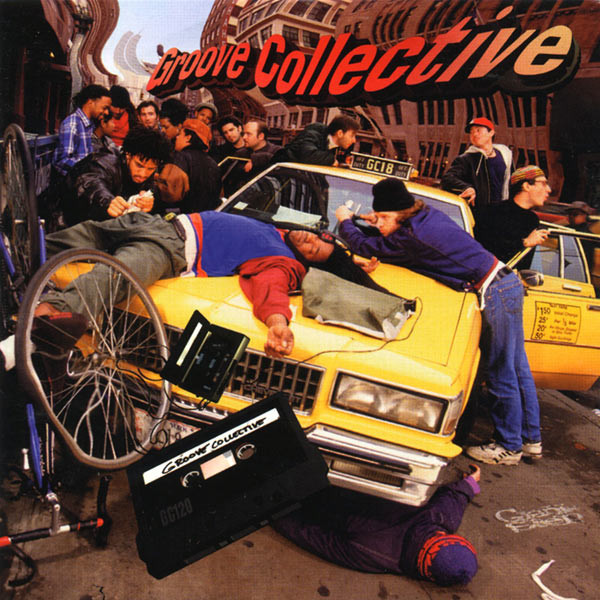 THE INVITATION
New York City's GRAMMY nominated Groove Collective has been invited to perform at the 39th annual Havana Jazz Plaza Festival in Cuba in January of 2024. Havana's The Jazz Plaza Fest is in its 39th year and runs a full week, drawing international artists and top local artists, performing, doing workshops, and helping to support local Cuban artists.
THE OPPORTUNITY
This invitation to the prestigious Havana Jazz Plaza Festival is an opportunity for Groove Collective to reunite the original band line-up, along with the newer Groovies and some friends from our GiantStep days. It's been a while since the original line-up has performed together, especially because some of the band has moved overseas.
The invitation to Havana is going to allow Groove Collective not only to perform at the world-renowned jazz festival, but also to spend a few days recording a live album and recreating the original Groove Collective Warner/Reprise album cover in a photo shoot with a classic 50's Cuban taxi. We are thrilled to be working with the Cuban award-winning Almacen documentary team to document our trip who will produce a documentary of the trip to be screened in New York City sometime in 2024 and made available online to all the campaign's supporters. Read more about Almacen and see an example of their work below.
The week-long Havana Jazz Plaza Festival features about 120 established and emerging performers from Cuba and other countries. Concerts take place in 15 venues, ranging from concert halls, like Casa de la Cultura de Plaza, Teatro Nacional de Cuba, Teatro Amadeo Roldán, the national Teatro Karl Marx, to smaller clubs and restaurants. Visitors can also enjoy improvised street jam sessions along the coast on bustling Malecon Street.
Artists who have performed at the Havana Jazz Plaza Festival in the past include Dizzy Gillespie, Max Roach, Charlie Haden, Roy Hargrove, Jack DeJohnette, Chucho Valdes, Dee Dee Bridgewater, Gonzalo Rubalcaba, Habana d'Primera, Airto Moreira, Dave Valentin, Steve Coleman, Joe Lovano, Carmen McRae, and many others.
THE NEED
Due to the economic situation on the island, artists who receive the invitation to perform at the Havana Jazz Plaza Festival are asked to cover the expenses of their trip. The total cost for Groove Collective to transport 12 band and crew members to Cuba, secure accommodations and food, produce the live recording, photography, and documentary film, is anticipated to be $50,000.
CUBA TRAVEL
Groove Collective's travel to Cuba to perform is currently permitted under the US State Department General License Title 31 for Public performances, clinics, workshops, athletic and other competitions, and exhibitions (see § 515.567); and Support for the Cuban people (see § 515.574).
THE CAUSE
Groove Collective does not want to miss an amazing opportunity to give back to the beautiful Cuban culture that is part of the foundation of our unique musical style. Performing at the Havana Jazz Plaza Festival will expose Groove Collective to the Cuban population and give the group many opportunities to collaborate, sit in with and to create community and forge new relationships with the many Cuban and international musicians that perform at the Festival.
We plan to bring instrument parts and supplies to donate in support of the Cuban local musicians and the entire trip will be filmed and released as a documentary. We are reaching out to you, our global Groove Collective family & supporters with this fundraising appeal to make this historic trip a reality.
WHAT IF WE DON'T HIT OUR GOAL?
If we reach less than the funding goal of US$50k we will make a decision to either bring a smaller group of musicians or cancel the trip altogether. If the trip is canceled ALL CONTRIBUTIONS WILL BE REFUNDED.
This fundraising campaign is being managed by Jazz Passengers Music Projects Inc., a New York not-for-profit organization whose purpose is "To Produce, Promote, Develop & Encourage Music, Theatrical and other Artistic Endeavors." JPMP has been fiscal sponsor for a variety of music projects since 2012 and is proud to be the fiscal sponsor for Groove Collective Journey to Cuba. Questions about JPMP or this campaign? Please contact Dana Ware at dana@jpmpinc.org.
Documentary Film by Almacen
Please enjoy this beautiful documentary created by Almacen, a Matanzas, Cuba-based independent cooperative of filmmakers, audio engineers, and photographers who document the Afro-Cuban musical traditions in the city of Matanzas. By working with Almacen to document our trip, Groove Collective will directly support the Cuban people. Groove Collective will also work with Almacen to distribute needed musical instrument parts that we will bring with us to distribute to the local musicians.
Groove Colletive Discography
The acid jazz outfit Groove Collective was formed in downtown New York City in 1990 out of the nomadic dance club called Giant Step. It's been a wild ride, check out our Discography EPK video:
We are so grateful to all our fans, friends, and colleagues for your love and support over the years, and we would be delighted and honored to receive your help in achieving this goal.
Sincerely,
— Groove Collective
Please contribute today to make our journey a success!